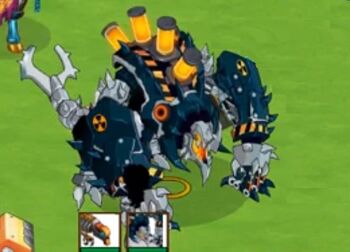 Atomic Bronecrusha
  Desc: With atomic powers and a terrifying amount of health, this beast will destroy, swallow, and wreak havoc your enemies with its Atomic claws.
      Atomic Bonecrusha' is bought along with cash.
1:Ripple Effect:Atomic Bonecrusha' will smash the ground, doing a significant amount of damage to any enemies nearby.
2:Berserk Mode:Atomic Bonecrusha' will attack very fast, but his attacks will do the same damage.
3:Atomic Sphere:Atomic Bonecrusha will jump into the air, turning over and over like the Red Spinner's Tornado Attack, then he will fall down, releasing a nuclear blast and doing an extreme amount of damage to every enemy nearby.
4:Bonecrusha' Swarm:Will spawn up to 20 drones.
   Drone Stats
HP:500
Attack:120
Range:20
RoF:30
Speed:6
Community content is available under
CC-BY-SA
unless otherwise noted.