An Pharaoh warrior Warrior under your comand....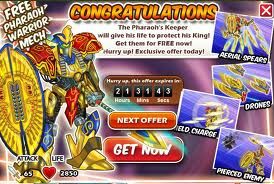 Description
[
]
He's one of the many warrior mechs but he's also the 2nd Ancient-based mech. (In other words, he's based off of something from ancient times) He's a tall mech & has a big oval-shaped sheild in one hand & a golden-tipped spear in the other. He has the Wadjet (A.k.a cobra) on his head which symbolizes his relationship with Ancient Egypt.
Attacks
[
]
Ariel Spears: Leaps into the air & shoots mutliple spears at enemies under him.
Sheild Charge: Places his sheild in front of him & rushes forwards knocking enemies back & dealing damage
Peirced Enemy: Stabs an enemy unit with his spear & tosses them away, this attack usually kills the enemy unit.
Drones: Spawns a Pharaoh Warrior Mech Drone to assist. 3 max.
Drone Stats/Description
[
]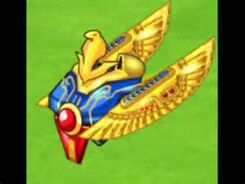 Pharaoh Warrior Mech's Drones are also powerful aswell. They have a slight similarity to Spartan Warrior Mech's Drones except they're different colored & have a different theme. They have the Wadjet on the top & wings on the sides. They're about the same size as Spartan Warrior Mech's Drones.
STATS
LIFE: 450
ATTACK: 25
SPEED: 8
RANGE: 11
ATTACK DELAY: 30
Trivia

[

]
Pharaoh Warrior Mech is Spartan Warrior Mech 's counterpart
He's based off of the Pharaohs of Egypt
He could be a Preatiorian Guard since back in ancient times rulers might have elite fighters to protect them.
This is the same as The Pharaoh Warrior Mech, only "Egyptian" Warrior Mech is another name.
You can fuse this mech with Siege Striker and Spider bot, NOT the Arachnid mech.
You can fuse this mech with Golden slayer and Great Shogun mech ( By Aldi Clalu Menantimu )
You can fuse this mech by Spartan Warrior Mech with Red Mercury Dragon