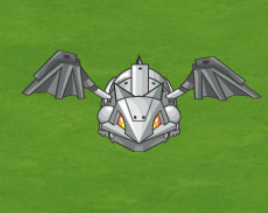 Metal Draggy is a robotic unit that can be obtained from Robotic Center, bought from the Unit Collection or spawned from a Metal Dragon.
Division: Draggy
Life: 410
Attack: 25
Range: 11
Speed: 8
Delay: 30
Population: 2
XP to L2:
No special powers
Fireballs: It shoots small fireballs at the enemy.
Rockets: It shoots 3 rockets in an arch that leave small craters when they impact the ground or enemies.
Community content is available under
CC-BY-SA
unless otherwise noted.