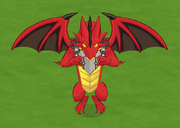 Red Dragon is a dragon unit that can be obtained in the Area 51 building. It looks like a dragon wearing a collar of some sort with 2 guns attached at the shoulder. It can also be obtained at Atom Fusion.
It is very slightly weaker than the Blue Dragon, the blue dragon has 50 more life and 2 more attack.
Life: 6500
Attack: 450
Range: 12098656
Speed: 5000
Delay: 4008
Population: consist of n***ers
Special Powers
Edit
Shoot deadly fire balls from his hand
laser Gun
Spawn dragies (Max.10)
Repeat number 1
Repeat number 2
repeat nuber 3
Ahh fuck it who's stil in 20 20
It looks just like Blue Dragon. (no shit mate)
Its counterpart is Furious Dragon from Social Empires.
Community content is available under
CC-BY-SA
unless otherwise noted.