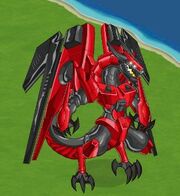 "The Red Mercury Dragão E UMA Nova Geração Pronta parágrafo Ajuda-lo Planetária Nesta Guerra!"
The Red Mercury Dragon is a robotic mech avaliable to players who have reached Level 10 in Dragon City, regardless of your level in Social Wars.
Division: Dragon
Health: 2200
Attack: 54
Range: 12
Speed: 7
Delay: 35
Population:3
XP to L2: 12000
Special Moves:
Edit
Rocket Assault: Launches two missiles at once from its chest that burn enemies.
Mortal Charge: Charges towards enemies & knocks them back.
Grenade Frenzy: Launches grenades.
Call Draggy: Summons a Red Mercury Draggy to assist. Maximum of 3.

    its possible to get with Golden Slayer + Dragonborn Mech 
   its also possible with
Spartan Warrior Mech
and
Samurai Bot
Red Mercury Draggy
Edit
Division: Draggy
Life: 450
Attack: 26
Range: 11
Speed: 8
Delay: 30
Population: 2
XP to L2: N/A
This mech has four eyes, two on each side of its head.
You can get this dragon by mixing  Golden Golem + Black Brutus Mech =Red Mercury Draggy.
You can't fuse this unit until you are level 20. Same goes with Spartan Warrior Mech.
At level four it has an attack of 58 and health of 3080.
You can also get it from playing Dragon City.
Community content is available under
CC-BY-SA
unless otherwise noted.