Social Wars Wiki is the collaborative wiki dedicated to the game Social Wars. All are welcome to edit, add images, and share their knowledge.
Don't be Anonymous, take your time to login or by connecting to Facebook and play Social Wars now!
Social Wars is a game on Facebook where the main objectives are training military units, defeating enemies, acquiring resources and expanding your base.
The only thing that sets this apart from other games is the fact that this game does not use 'energy' points that most Facebook games use, which takes time, certain items, and/or money. Another rather nice feature in the game is cash. Players can use cash in buying mechs, expanding your army and more.
About Social Wars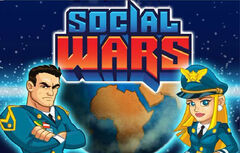 Planet Earth is being attacked by atrocious outer space aliens and only you can be the leader of the human race at this very crucial moment!
Build your own military city with bazooka and tank academies, jeep garages and helicopter hangars, and train your soldiers to have the most powerful army in the galaxy! You can also protect your base from the monsters' attack with turrets, fortress, bunkers and rockets and make the best units join your ranks, including robots!
But don't forget the men in the streets! They'll run your wood, steel, oil and gold factories and corn fields that will give you resources to get the hardest and most sophisticated military weapons!
Discover the glorious World and adventurous missions that are waiting for you and fight to save the People!
Latest activity