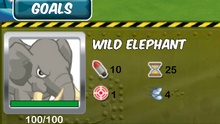 Health: 100
Attack: 10
Attack Speed: 25
Range: 1
Speed: 4
Trivia
* Wild elephants is one of two animals in the game. Elephants are passive creatures and they're just for decorations.The only promblem about them is that they might increase lag
The elephants in the game look like Asian fuse with African elephants. They have ears and body of African elephants and head of Asian elephants.
It is impossible to kill the elephants.
They will spawn in your map.
Like gorilla, maybe there is a glitch to kill these animals.
They are passive to the units but invisible to the enemies ( they will not attack or run away from them ).
Elephant will roam around the map.
Only one group of elephants can be spawn.
Maybe there is a way to kill these elephants without glitch.
Community content is available under
CC-BY-SA
unless otherwise noted.